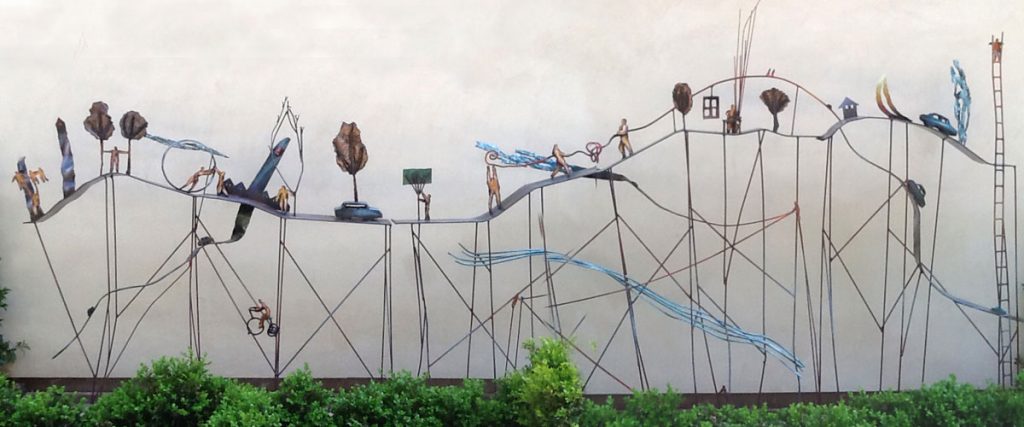 Road, 2002. Steel, copper, enamel. 238cm high X 545cm long. Private collection
Road, 2002, details
The road has been a recurring theme, representing movement both through time and place. The large Road sculpture presents a sequence of scenes from a life, all connected by a steel ribbon of road.
Moment to Moment, 2011-12, was a touring sculpture exhibition made up of over 120 individual sculptures. The individual works were like the frames in an animated film, giving a vivid sense of movement. In this instance the road was a metaphor for a pilgrimage into the light, and for this reason the work was installed in cathedrals in England and Scotland. It also travelled to public venues in Lecce and Savona in Italy.
Personification of the Road
Like the mutations in Ovid's Metamorphoses, an entire range of half man half road has developed. We are so joined to the highway that it has literally become a part of our biological makeup in these prints and sculptures.
Some of these images are from the Inner Cities series of work which can be see here.
Others are from the Mortals series, which can be seen here.
il benzinaio is an artists book about a car journey through the hills of Liguria. Stopping to fill up the car in a small town, the local 'benzinaio' recounts the story of a recent flood.

Klein grew up in Coney Island in Brooklyn, NY, home of the famous Cyclone roller coaster. Vivid memories of riding along the Belt Parkway were the inspiration for Fear of Driving, exhibited at 112 Greene Street in Soho at the artist's first solo exhibition. Another reason the American road became for Klein a recurring metaphor for the passing of time.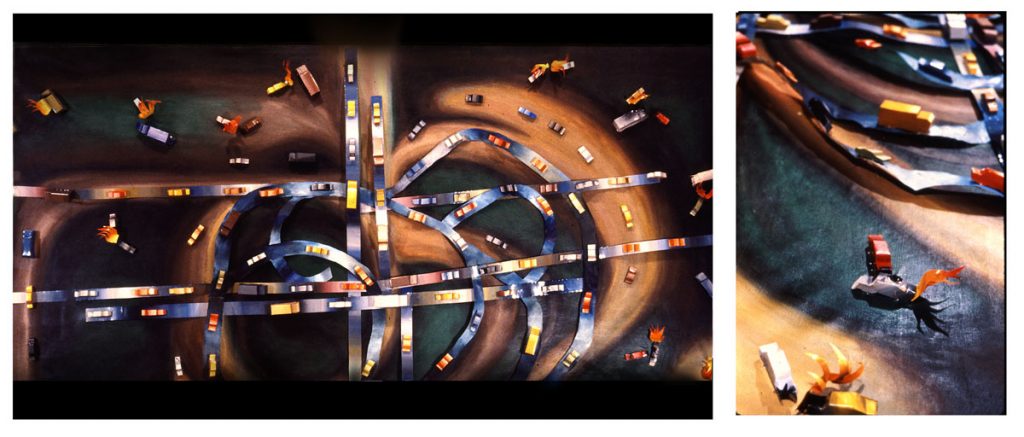 Road fragments, 2008. Dimensions variable. Exhibited at Coney Island Angels exhibition, Darlington Arts Centre and Road exhibition, European Academy