Who Will Feast – a short film about bio-diversity.
Call Me Thief
A artist recycles.
Florida – or you can't fight progress.
Let's just wait in our cars, and see if it passes.
Moment to Moment
A selection of the some of the 110 sculptures which formed the touring sculpture installation.
Exhibited at public venues in Italy, Scotland and England. To see the short film click here.
To read more about the exhibition click here.
Hitchhiking Across America
Sometimes paradise is deceptive.
A child is lost in Coney Island and is surrounded by an unreal world of freaks, daredevil rides, and crinkle cut french fries. A new 7 minute film based on the Coney Island artist's book can be seen here.
A few copies of the original artist's book are available here.
Story of a Family Man
We are all connected. A film based on the artist's book to accompany the touring sculpture exhibition.
To see the complete short film click here.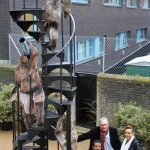 ASPIRE
A public sculpture for the Thames Reach homelessness charity, created with formerly homeless clients.
To see the film of the making of the sculpture, click here.