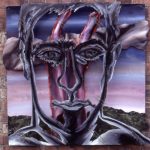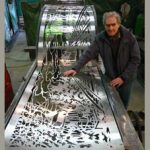 Rafael Klein, also known as Randy Klein, was born in Brooklyn and now lives and works in London. HIs art spans across media – from sculpture to painting graphics and artists' books, but it consistently explores a narrative. This narrative often is carried out in a modularity of work – many small works which lead to one large story. Most recently, this tendency of Klein's can be seen in the 120 sculptures of Moment to Moment, a touring exhibition which traveled to three venues in Italy, before touring cathedrals in the UK.
Klein's sculpture carries its physical weight lightly, forming a dialogue between the plastic nature of 3 dimensional work and a flowing spirituality. This is evident in the works which make up the Dante series, exhibited widely. He has created a large number of sculptures for the public realm, including the ASPIRE sculpture for the historic home of the Employment Academy, the Angel of Poetry for the Biblioteca Classense in Ravenna, as well as many sculptures for parks and schools in the UK.
Sometimes the modular flow questions the nature of sculpture itself, making sculptural letters and words which form a 'rebus' of meaning.
His limited edition artist books can be found in the collections of the Museum of Modern Art New York, the Tate, the V and A, the British Library, the New York Public Library, the Brooklyn Museum among many others.
As Directly as the Bird Sings
"Klein has a rare spirit and believes in livening us up rather than dragging us down. Some artists have to labour long and hard to translate their ideas into sculptural form. How much better to be like Rafael Klein, who seems to think in sculptural terms as easily and directly as the bird sings."
John Russell Taylor
The Times, London
Big Art from the Big Man
"Someone who has been at the very heart of many inner city regeneration projects and a creator of some quite amazing street art has been artist Rafael Klein. I expect all creative people to be enthusiastic about their work but nothing can prepare you for the passion and fire that emanates from this artist."
Michael Holland
Southwark News
"You have given so many people, of all backgrounds and ages, pleasure with your exhibition. It is truly poetic work."
Judy Dames, curator, mac
Midland Arts Centre, "People and Their Things" solo exhibition