There have been so many interesting films about artists, and I thought I'd reminisce about some of them.
Classics of the MGM Technicolor school include the greatest (and worst) films about an artist ever made, "Lust for Life", based on Irving Stone's adaptation of the Van Gogh letters. The overblown title gives it all away – the over dramatised angst of the individual genius against the world is trivialised in its operatic theatricality. But who can argue with Kirk Douglas as the great man and Anthony Quinn as Gauguin? Like an episode of the Odd Couple on steroids. And isn't the technicolor palette perfect for imitating the hallucinatory colour of Van Gogh?
Romanticisation
Another in The Classic Hollywood mould is Moulin Rouge, with Jose Ferrer as Toulouse Lautrec. This one is just preposterous, but somehow endearing. Even if only for the picture book image of 19th century Paris through the lens of Hollywood. No more attempt at veracity than the silly portrayal of 'An American (artist) in Paris', with Gene Kelly dancing around the bistros and long legged French women. He must have had precious little time to put brush to canvas.
Identity
The American Friend is another brilliant evocation of the artist by Wim Wenders. With the tormented Dennis Hopper and based on the novel by Patricia Highsmith, the film explores issues around the artist's identity. His identity is hidden even from himself, as he seeks to benefit from the improved market in his work now that he has faked his own death.
This is a good example of the dilemma of possessing (or not) yourself, or of your identity being owned by a market. Also the dilemma of having to create imitations of your earlier work, as  Giorgio De Chirico did with his early metaphysical paintings. The undisputed greatness of these Pittora Metafisica poetic early paintings was followed by 60 years producing paintings in a quirky classicist style which was completely rejected by the art world. Although now the paintings can be seen as a prescient and refreshingly kitsch post modernism.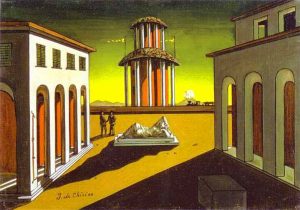 During these 'lost years', De Chirico was often reduced to painting versions of his earlier metaphysical works and preparing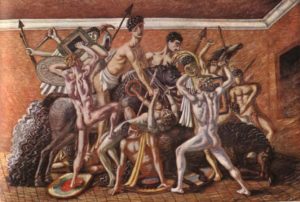 them. This is precisely what the painter in The American Friend does, with the added irony of creating posthumous works pre-dated before his own death.The edginess of surviving as an artist and maintaining your self respect is beautifully captured in its dreary Berlin setting.
The new Tim Burton film, Big Eyes, deals with a similar question of 'who really made the works'. It looks also like it will peel back the public idea of another extremely successful artist Walter Keane made millions – but his wife did all the paintings. Margaret Keane is the real artist. The story touches on some core issues about being an artist. The separation between talent at creation and talent for marketing, self-publicity and selling. Not too hard to think of artists who are geniuses at the latter, but less so at the former. We will have to wait and see. I know I will be going. See you at the cinema.
True Life Artists
I have tried not to include documentaries, but there were two films which don't fall into the usual artist documentary category. Goodness knows there are plenty of films about the historical greats of the art world. And many, such as the recent 'Hockney', which portray contemporary artists we all know and love. But recently there were two films which introduced me to artists I had never heard of.
First there was a documentary about the girl who might have created an entire art movement in the US, 'My Kid Could Paint That'. Whether there is a scam going on here or not is up to the viewer to decide.
One of the most honest portrayals of an artist on film is one called 'Cutie and the Boxer'. It is another documentary about a living artist who is not one of the 15 or so living artists seen in most film length documentaries. Instead it is about a Japanese artist forging a career in the relatively inhospitable world of his adopted New York, where for decades he has been carving out a career as a professional artist. It is a searingly honest look at the peaks and troughs of the artist's life and as such both exhilarating and tragic. Ushiro Shinohara is a painter who is known for creating large canvases by punching with boxing gloves dripping with fresh paint. The vicissitudes of his career and family life are brilliantly captured by director Zachary Heinzerling.
Why not just blow their heads up?  For me the greatest evocation of the life of the artist was Scanners.
The film wasn't exclusively about an artist, but one of the main characters was a mad sculptor – arguably the basis of many horror films maybe even Frankenstein. The madness, frustration, technical abilities and personal integrity and strength leading only to becoming a homicidal maniac. But one who with great creativity had the unpleasant habit of blowing people's heads up using telepathy. What's not to like?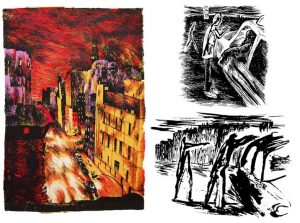 And, if your appetite has been whetted to see more out of the way and interesting true life artist documentaries, why not try this short film by Caroline Gardiner about the time I spent driving a taxi in New York City, while going to art school?
Artist Gill Roth says – What about 'Love is the Devil' about Francis Bacon? Quite right, Gill. And also 'Basquiat' by Julian Schnabel