The Temple of the Car
Being American, I am pretty accustomed to the worship of the car. It is like a mechanical god – and like other deities, it can inspire adoration or fear. I've never loved cars myself. For me the automobile inspires not adoration but fear.
I grew up in Brooklyn, and when I was a young child I was in a car crash and ended up in hospital for several weeks. Then I grew up and got my driving license, and on my first day of driving I had my first car crash and I realized it's not so bad. Actually, it reminded me of the 'bumper cars' at Coney Island. But I still avoided driving whenever I could.
Driving a Cab in New York
I used to drive a taxicab while I was studying art in New York. Got held up at gunpoint and became pretty disgusted with it. I wrote about it in a little comic book about my experiences called 'Tales of New York'.
The comic book was bought by the Tate Gallery. It was seen there by Caroline Gardiner who made a short film based on it. You can see the film here.
Superman and Cars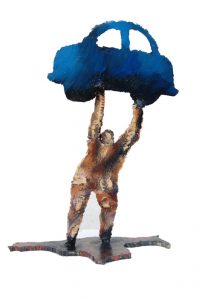 When i finally got over my fear of driving I made another sculpture of a superman who used the road as if it were the belt of Orion. Or could toss the car around as if it were a mere toy.
Cars and Nature
Once I hitchhiked all across America and slept on Route 66. I then came to realise my whole life was a road. So I made a sculpture that was a very long journey, just like a whole life, starting like a little kid, right up to dying no going to the garage in the sky. And the cars were merely a part of nature, no different from trees.
Overcoming Fear of Driving

So finally I now have got over my fear of cars. They seem part of the natural landscape. I don't like them, and I still hate driving, but I guess I accept them and don't feel like I am at war with the road anymore. Read more about the Road in Sculpture here.